Join us in Melbourne for the 1st meeting of the ISMRM ANZ Chapter!
06 December 2019
The Florey Institute of Neuroscience and Mental Health
Parkville, Melbourne, VIC 3052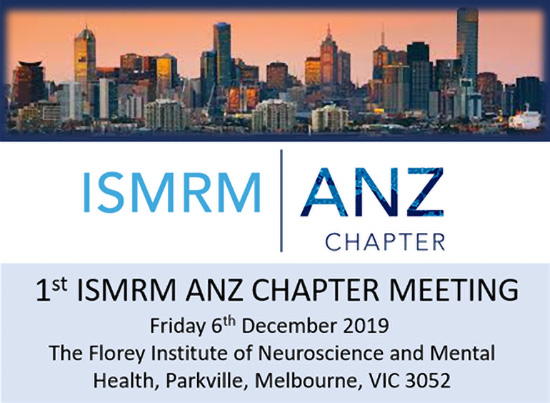 Membership in the chapter is FREE with registration for the upcoming meeting:
$70 for members of ISMRM
$100 for non-members of ISMRM
$50 for persons qualifying for trainee membership of ISMRM but not a current member (i.e. student of 5 years post-Ph.D.)
Free for trainee members of ISMRM
ISMRM ANZ Chapter
Governing Committee
President: Ruth A. Oliver, Ph.D.
President Elect: Kathryn M. Broadhouse, Ph.D.
Treasurer: Govinda Poudel, Ph.D.
Secretary: Shawna L. Farquharson, M.Sc.(R)
Advisor: Alan Connelly, Ph.D.