Cancer Sub-chapter Meeting; ISMRM Iranian Chapter
The cancer subchapter of the Iranian chapter of International Society for Magnetic Resonance in Medicine (ISMRM) established on May 4, 2016 in Milad tower with the presence of radiologists, founding board of the society and the chapter members.
At the beginning of the meeting Dr. Hamidreza Saligheh Rad, the assistant professor of Tehran University of Medical Sciences (TUMS) and the president of Iranian chapter of ISMRM, introduced the whole society and presented a report on its activities ever since its establishment. As representative of the founding board, he enumerated the purposes of defining various subchapters including: creating special study groups in order to scrutinize different areas of magnetic resonance imaging more deeply, plugging the gap between physicists, specialists on one hand and MR scientists on the other hand.
Dr. Jalal Jalal-Shokouhi, the president of the Iranian Society of Radiology (ISR), emphasized the urgency of establishing close connection between ISR and Iranian chapter of the ISMRM, and proposed the potential for future collaboration of Iranian chapter with ISR as a MRI committee in the Iranian Society of Radiology. By mentioning the independent and complementary role of radiologists, physicists, and MR technologists in medical diagnosis, he heralded conspicuous breakthroughs in unifying the alluded three fields.
Dr. Hamidreza Haghighatkhah, Assistant Professor of Shahid Beheshti University of Medical Sciences (president of the executive committee of thirty second Iranian congress of radiology) stated that updating the knowledge of the radiologists and MR technologists in order to apply novel MRI protocols introduce two-sided benefits for both patients (by reducing the cost of imaging) and physicist (by improving diagnosis). He also mentioned that by providing opportunities for transferring cutting-edge knowledge of MRI and inviting the well-known specialists of different domains of research, Iranian chapter of ISMRM can be a pioneer.
Dr. Pedram Fadavi, assistant professor of Iran University of Medical Sciences, proclaimed the precise imaging as a mainstream for radiation oncology, and stated that the presence of ISMRM can support this matter. Dr. Hassan Hashemi, head of the radiology department, also lectured about the abovementioned aspects of the ISMRM Iranian chapter.
At the end of the meeting, among the candidates for board committee of the cancer subchapter, Dr. Hamidreza Saligheh Rad, Dr. Hamidreza Haghighat khah, Dr. Pedram Fadavi, and Mr. Moslemi were selected for two years. The board committee must deliver their short-term and long-term perspectives in 45 days to the secretariat office of the ISMRM.
MR Cardiovascular Study Group Meeting – ISMRM Iranian Chapter
ISMRM Iranian chapter- instituted in 2014 December with the support of a group of Iranian scientists inside and outside the country and great companionship of GSIA (Office of Vice-Chancellor for Global Strategies and International Affairs)- has triggered different study groups (namely neuro sciences, MSK (Musculoskeletal), SMRT (Section for Magnetic Resonance Technologists), cardiovascular MR, cancer, etc.) to fulfill its educational purposes. Of these, Cardiovascular MR study group held its first meeting on February 18, 2016, at Amirkabir University of Technology, by the presence of professors, doctors, senior managers, MR technologists and students of the field. A number of MR experts from Shahid Rajaie Cardiovascular, Medical & Research Center and Mashhad University of Medical Sciences (MUMS) also attended the meeting via video conference.
By emphasizing the fact that ISMRM is a non-profit society with specific predefined goals, Dr. Saligheh Rad, assistant professor of Tehran University of Medical Sciences and chairman of ISMRM Iranian chapter, explained a brief history of ISMRM with statistics on the number of its annual workshops and educational courses.
Dr. Zahra Alizadeh Sani- assistant professor of Shahid Rajaie Cardiovascular, Medical & Research Center, Iran University of Medical Sciences- declared that ISMRM Cardiovascular MR study group is set to appear as a united professional society offering educational and consultative services for cardiac MR experts throughout the world; aiming to fulfill higher promises. "Holding regular meetings and leading thinking rooms to recognize and deliberate on different problems in the field of cardiac imaging and to resolve the obstacles as much as possible were considered as the most important purposes of ISMRM," said Dr. Alizadeh Sani. She also implied that organizing different seminars, workshops, educational courses in various levels by inviting renowned high-qualified scientists from all over the world to foster and promote the scientific atmosphere of the field, is the other imperative goal of cardiovascular MR imaging study group in near future.
Dr. Abbas Nasiraei-Moghaddam, assistant professor of Amirkabir University of Technology claimed that MRI is able to cover a vast range of medical information at once, while the other imaging modalities are able only to acquire information from a certain feature of the human body; and this is the unique virtue of MRI. Putting aside its time consuming procedures, it can be considered as a robust and reliable imaging modality. He added that "the foreseeable MRI perspective is aimed on reducing the time of imaging, and this is the territory that needs to be carried forward by physicists. We need to be more persuasive to get the permission of employing a vast range of MR pulse sequences on our available MR scanners and allocate more time for research in the imaging centers. Obviously, it is not readily achievable but by reinforcing our international collaborations and exploiting the experts' experiences it will be more promising. In fact, we must strive to be pioneer in the field of MRI research and should not be satisfied to being the follower."
In the sequel, Dr. Layegh and Dr. Pedarzadeh recited some of the current problems and obstacles in imaging centers throughout the country and referred to "team work" as a main factor contributing to future flourish of the cardiovascular MR study group.
At the end of the session, after A/Q panel, election was held in order to determine the board members of the cardiac study group, and Dr. Alizadeh Sani, Dr. Layegh, Ms. Mohammadi, and Mr. Zare were chosen by common consents.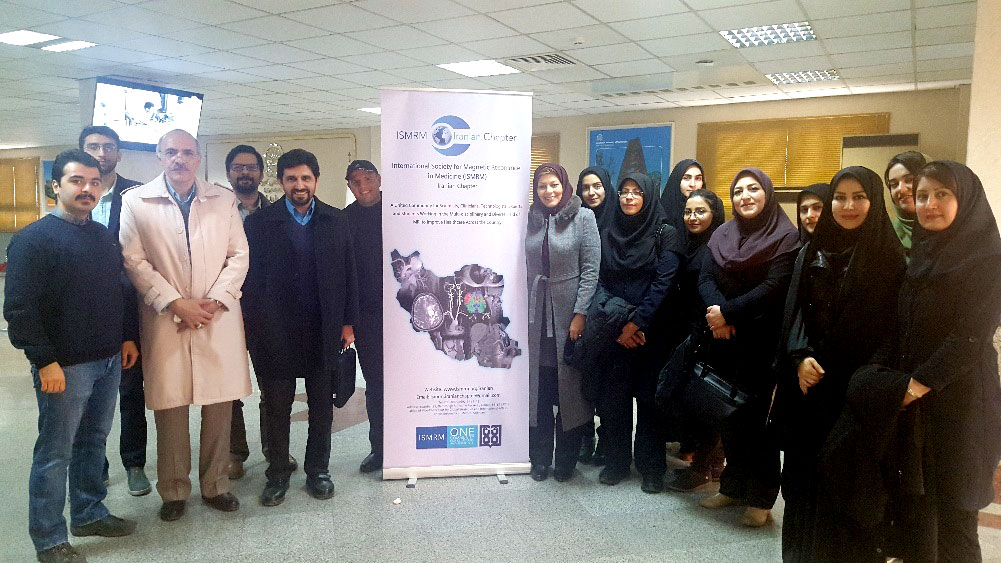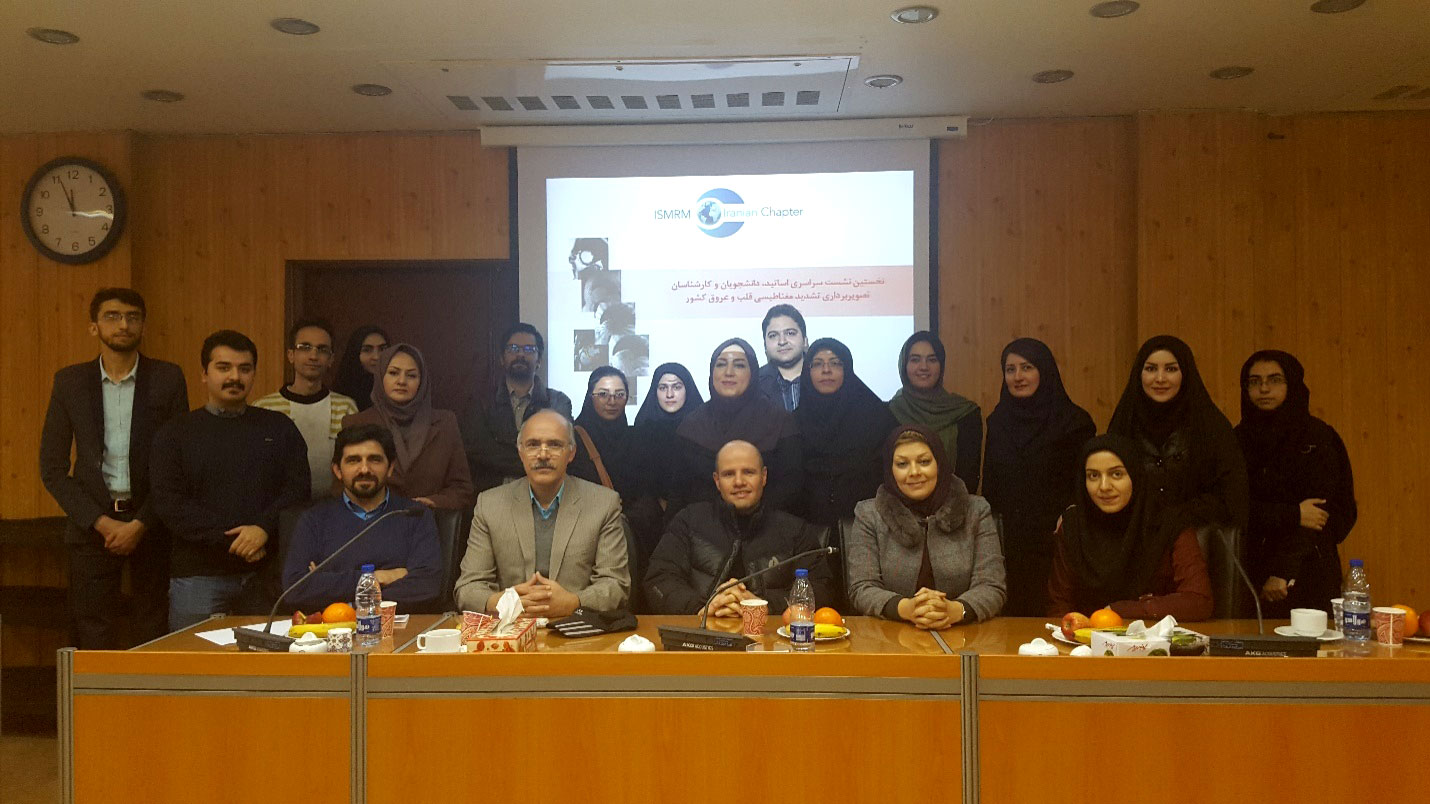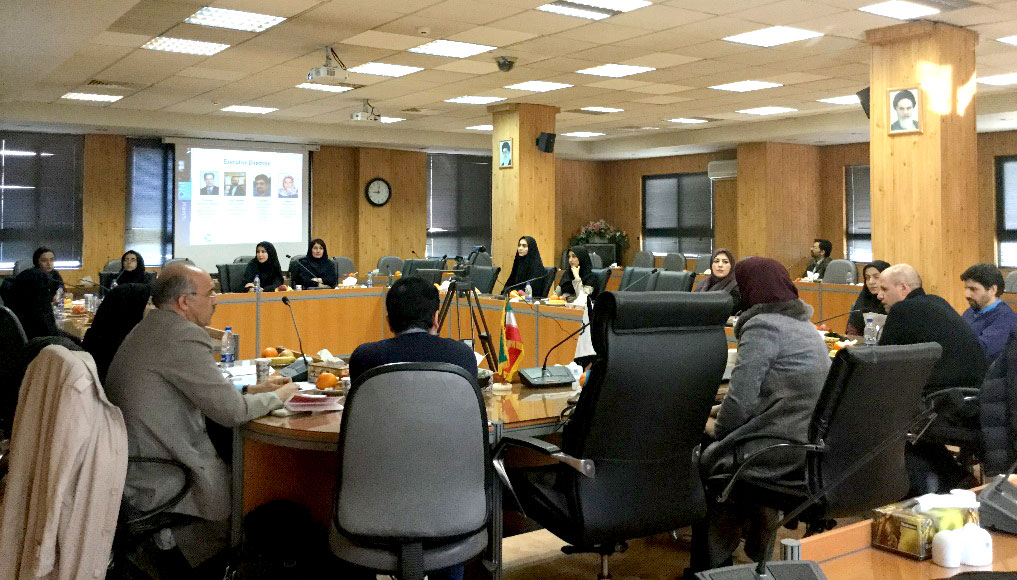 اولین جلسه شاخه ایرانی انجمن بین المللی تصویربرداری تشدید مغناطیسی در پزشکی- زیر شاخه کارشناسان ام آر آی برگزار گردید.
تاریخ برگزاری: 1394/10/10
ساعت شروع جلسه: 9صبح
دبیر جلسه: جناب آقای دکتر سلیقه راد
گزارش رویدادهای جلسه:
در ابتدای جلسه خانم آتنا اکبری مسئول دفتر انجمن و جناب آقای دکتر حمیدرضا سلیقه راد رئیس انجمن به حاضرین خوشامد گویی گفتند.
سپس جناب آقای دکتر منصور فاتحی توضیحاتی در ارتباط با شاخه ایرانی انجمن بین المللی ISMRM و دلیل برگزاری جلسه و اهمیت آنرا بیان نمودند. در ادامه جناب آقای دکتر سلیقه راد با بیان تاریخچه ای از انجمن بین المللی  ISMRM و تشکیل شاخه ایرانی SMRT، اهداف تشکیل این زیر گروه و این جلسه و تاکید بر صنفی نبودن این زیر شاخه ایرانی را تشریح کردند.
سر کار خانم دکتر علیزاده از اعضای هیئت مدیره انجمن نیز در ادامه با تاکید بر اهمیت حضور کارشناسان و ارتباط تنگاتنگ و مهم آنها با پزشکان و سایر متخصصین برای رسیدن به یک تشخیص درست در جهت کمک به بیماران به ایراد سخنرانی پرداختند.
جلسه با سخنرانی پیشکسوتان و اساتید کارشناس MRI و با مدیریت جناب آقای دکتر رضا احدی ادامه یافت که مشکلات و ملزومات اجرای برخی اصول را در بخش های ام آر آی بیان نمودند. در این بخش اساتید و پیشکسوتان جامعه کارشناسان؛ آقایان شجاعی مقدم، رفیعی, قاسمی، آسیایی و شیخی هر یک انتظارات و بایدهای فعالیت های علمی و آموزشی با رویکرد بین المللی در این زیر شاخه ی انجمن را ذکر نمودند.
پس از اعلان مشکلات و نظرات توسط پیشکسوتان ام آر آی پرسش و پاسخ میان کارشناسان حاضر در جلسه و سخنرانان انجام شد و سایرین نیز نظرات خود را اعلام کردند.
با رای گیری بین حاضرین افراد زیر به ترتیب آرا به عنوان هیئت مدیره ی اجرایی  SMRT انتخاب شدند:
<![if !supportLists]>       <![endif]> آقای محمد فتحی

<![if !supportLists]>       <![endif]> آقای جواد قاسمی

<![if !supportLists]>       <![endif]> آقای مجتبی ایمانی تبار
در کنار افراد انتخاب شده یک کمیته علمی و مشاور علمی نیز همکاری خواهند کرد که نظرات مشورتی آنها توسط کمیته اجرایی همواره مورد بررسی و اجرا قرار خواهد گرفت. این کمیته در اولین جلسه ی هیئت اجرایی انتخاب و معرفی خواهد گردید.
هیئت اجرایی منتخب برای دوسال فعالیت خواهد نمود و از تاریخ انتخاب فرصت دارد طی 45 روز اهداف و برنامه های خود را به هیئت مدیره انجمن ISMRM تقدیم نمایند. این برنامه ها شامل سمینارها- کارگاه ها و دوره های آموزشی با همکاری و استفاده از همه ی پتانسیل های داخلی و بین المللی خواهد بود. همچنین این هیئت می بایست گزارش عملکرد خود را بصورت فصلی نیز برای تشریح عملکرد به اعضای انجمن تقدیم نماید.