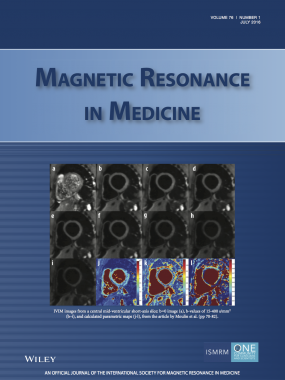 July Cover Art
In vivo free-breathing DTI and IVIM of the whole human heart using a real-time slice-followed SE-EPI navigator-based sequence: A reproducibility study in healthy volunteers, by Kevin Moulin, Pierre Croisille, Thorsten Feiweier, Benedicte M.A. Delattre, Hongjiang Wei, Benjamin Robert, Olivier Beuf and Magali Viallon.
July Editor's Picks
High-resolution mapping of neuronal activation with balanced SSFP at 9.4 tesla, by Klaus Scheffler and Philipp Ehses. Link to audioslides.
Gibbs ringing in diffusion MRI, by Jelle Veraart, Els Fieremans, Ileana O. Jelescu, Florian Knoll and Dmitry S. Novikov. Link to audioslides.
New! 2015 Impact Factor and related bibliometric data released
 Journal Citation Reports® recently released its 2015 bibliometric data. Magn Reson Med is included in the category Radiology, Nuclear Medicine & Medical Imaging, which contains 124 journals. The values and (rankings, with "1" being the highest) listed on their website for Magn Reson Med are:
Impact Factor = 3.782*…(16/124)
5-year Impact Factor = 3.899…(17/124)
Cited Half-life = >10.0 years*… (tied 1/124)
Total Cites = 28,628*… (5/124)
Immediacy Index…0.847* (17/124)
Current Articles… 438* (7/124)
Article Influence® Score = 1.257*…(17/124)
Eigenfactor® Score = 0.0379… (8/124)
*indicates an all-time, record high in the 32-year history of the journal.
It is very encouraging that all of the metrics are in the top 15% of journals within our category, or better. Impact factor, the most widely-watched metric, increased for the fourth consecutive year, and total citations exceeded 28,000 for the first time ever. All these metrics represent great work by our Authors, Reviewers, Deputy Editors, and Staff!
Top 5 Cited Papers
On May 9 at the ISMRM Award Ceremony in Singapore, ISMRM President James Pipe, recognized the following papers for being the Top 5 Cited Magn Reson Med Papers from 2013. Congratulations to all!
Publons available for reviewers
Our publisher, Wiley, is partnering with Publons, a new service dedicated to supporting improvements in peer review. Publons provides documentation of review service in a format that can be included in CVs and funding applications.  Magn Reson Med will be integrating this service into ScholarOne over the coming months. Enrollment is completely optional.  For more information, please see: https://publons.com/
Over Eleven Years of Back-Issue Content now Publicly Available
Under an agreement between our publisher Wiley, and our host Society, the ISMRM, content of Magn Reson Med from issues more than 5 years old and published after 1999 will be freely available, regardless of subscription status. Each month, a new issue's worth of content will be released.
Mobile Apps
Apps are available for both Apple and Android devices. To download the appropriate app, please search for words like "Wiley" and "MRM" at the Apple App Store or the Google Play Store.
Now accepting YIA submissions for the 2017 ISMRM Annual Meeting in Honolulu
Our ManuscriptCentral/ScholarOne site is open for manuscript submissions in conjunction with the 2017 I.I. Rabi Award. For more information about the YIA competition, please see: https://www.ismrm.org/YIA/
OnlineOpen 25% Discount for ISMRM Members
Magn Reson Med is very pleased to continue to offer its standard publication option: No page charges, including color pages in print.
Some authors, institutions, or funding agencies however, prefer or require papers to be freely and immediately available for download by anyone, regardless of their subscription status, i.e., Open Access. For those authors, Wiley offers an author-paid publication option called OnlineOpen. This option is only available for accepted papers, so if an author makes this choice it has absolutely no bearing on the peer-review process or any editorial decision.
We are pleased that our publisher is offering ISMRM Members a 25% discount on OnlineOpen fees for their Magn Reson Med papers. The author applying for the discount must be a current ISMRM Member. More information is available by clicking on the OnlineOpen link on the Magn Reson Med homepage.
Full Issue PDFs
Full Issue PDFs are now available for download.  Please follow the link available at the journal home page: http://onlinelibrary.wiley.com/journal/10.1002/(ISSN)1522-2594
You will be prompted for your ISMRM login information.
Matt A. Bernstein
Editor, Magnetic Resonance in Medicine
International Society for Magnetic Resonance in Medicine (ISMRM)
Section for Magnetic Resonance Technologists (SMRT)
One Concord Center
2300 Clayton Road, Suite 620
Concord, CA  94520
T: +1  510 841 1899 •  F: +1  510 841 2340
www.ismrm.org •  www.facebook.com/ISMRM • twitter.com/ismrm