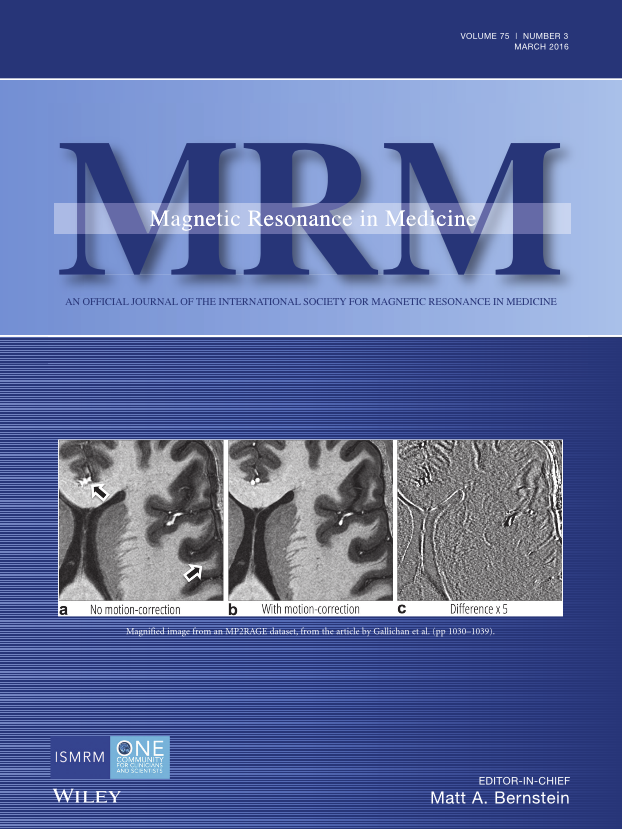 March Cover Art

Retrospective correction of involuntary microscopic head movement using highly accelerated fat image navigators (3D FatNavs) at 7T, by Daniel Gallichan, José P. Marques and Rolf Gruetter
March Editor's Picks

Demonstration of nonlinearity bias in the measurement of the apparent diffusion coefficient in multicenter trials, by Dariya I. Malyarenko, David Newitt, Lisa J. Wilmes, Alina Tudorica, Karl G. Helmer, Lori R. Arlinghaus, Michael A. Jacobs, Guido Jajamovich, Bachir Taouli, Thomas E. Yankeelov, Wei Huang and Thomas L. Chenevert
The fractionated dipole antenna: A new antenna for body imaging at 7 Tesla, by Alexander J.E. Raaijmakers, Michel Italiaander, Ingmar J. Voogt, Peter R. Luijten, Johannes M. Hoogduin, Dennis W.J. Klomp and Cornelis A.T. van den Berg
New! Over Eleven Years of Back-Issue Content now Publicly Available
Under a new agreement between our publisher Wiley, and our host Society, the ISMRM, content of Magn Reson Med from issues more than 5 years old and published after 1999 will be freely available, regardless of subscription status. Each month, a new issue's worth of content will be released.
Android App
The long-awaited Android app is here! Now there are apps available for both Apple and Android devices.  To download the new Android app, search for words like "Wiley" and "MRM" at the Google Play Store.
Now accepting YIA submissions for the 2017 ISMRM Annual Meeting in Honolulu
Our ManuscriptCentral/ScholarOne site is open for manuscript submissions in conjunction with the 2017 I.I. Rabi Award.
For more information about the YIA competition, please see:  https://www.ismrm.org/YIA/ .
OnlineOpen 25% Discount for ISMRM Members
Magn Reson Med is very pleased to continue to offer its standard publication option: No page charges, including color pages in print.
Some authors, institutions, or funding agencies however, prefer or require papers to be freely and immediately available for download by anyone, regardless of their subscription status, i.e., Open Access. For those authors, Wiley-Blackwell offers an author-paid publication option called OnlineOpen. This option is only available for accepted papers, so if an author makes this choice it has absolutely no bearing on the peer-review process or any editorial decision.
We are pleased that our publisher is offering ISMRM Members a 25% discount on OnlineOpen fees for their Magn Reson Med papers. The author applying for the discount must be a current ISMRM Member. More information is available by clicking on the OnlineOpen link on the Magn Reson Med homepage.
Matt A. Bernstein
Editor, Magnetic Resonance in Medicine?International Society for Magnetic Resonance in Medicine (ISMRM)
Section for Magnetic Resonance Technologists (SMRT)
One Concord Center
2300 Clayton Road, Suite 620
Concord, CA  94520?T: +1  510 841 1899 •  F: +1  510 841 2340
www.ismrm.org •  www.facebook.com/ISMRM • twitter.com/ismrm