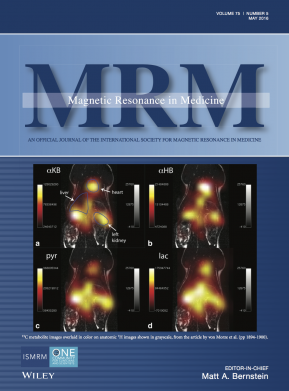 May Cover Art
Hyperpolarized [13C]ketobutyrate, a molecular analog of pyruvate with modified specificity for LDH isoforms, by Cornelius von Morze, Robert A. Bok, Michael A. Ohliger, Zihan Zhu, Daniel B. Vigneron and John Kurhanewicz
May Editor's picks
Multi-VENC acquisition of four-dimensional phase-contrast MRI to improve precision of velocity field measurement, by Hojin Ha, Guk Bae Kim, Jihoon Kweon, Young-Hak Kim, Namkug Kim, Dong Hyun Yang and Sang Joon Lee
Impact of the calculation algorithm on biexponential fitting of diffusion-weighted MRI in upper abdominal organs, by Sebastiano Barbieri, Olivio F. Donati, Johannes M. Froehlich and Harriet C. Thoeny
Check out the YouTube channel, developed in conjunction with the Highlights page. Audio slides for this month's Editor's Picks are now on the channel.
New! Print Supplement for Magnetic Resonance in Medicine Highlights
If you are attending the ISMRM Annual Meeting in Singapore, please be sure to look for the special print supplement of Magnetic Resonance in Medicine Highlights.
New! Publons available for reviewers
Our publisher, Wiley, is partnering with Publons, a new service dedicated to supporting improvements in peer review. Publons provides documentation of review service in a format that can be included in CVs and funding applications.  Magn Reson Med will be integrating this
service into ScholarOne over the coming months. Enrollment is completely optional.  For more information, please visit https://publons.com/ .
Informational Session for Journal Reviewers at the Annual Meeting in Singapore
Please join Mark Schweitzer MD, editor of JMRI, and me for an educational session "Manuscript Reviewing for ISMRM's Scientific Journals" Monday May 9, 18:45-19:45 in Room 300-302 at the Suntec Convention Center. We introduced this session last year in Toronto, and attendance was sufficiently high—even after a busy Monday—to offer it again. After our brief talks, there will be lots of opportunity for questions and discussion.
https://www.ismrm.org/16/program_files/MonManuscript.htm
Matt A. Bernstein
Editor, Magnetic Resonance in Medicine
International Society for Magnetic Resonance in Medicine (ISMRM)
Section for Magnetic Resonance Technologists (SMRT)
One Concord Center
2300 Clayton Road, Suite 620
Concord, CA  94520
T: +1  510 841 1899 •  F: +1  510 841 2340
www.ismrm.org •  www.facebook.com/ISMRM • twitter.com/ismrm